One of the things I hate most about 'The Young Apprentice', or indeed, the regular, adult version of 'The Apprentice', is when a contestant openly lies in the boardroom (or should that be The Boardroom?).
Claiming an idea or action during the task as their own, when they know full well they simply ran with someone else's is an awful thing to do, but even more stupid. Do these idiots not realise that they are being filmed constantly throughout the task?

A couple of notable examples:
Last night, Zara Brownless, the 16-year-old stuck up lass, with the almost-permanent smug look on her face, claimed that she had the bright idea of checking out a book store to find a dictionary and establish what a 'dashiki' was. Well, one, it was a library, not a bookstore, and two, you never had the idea- it was Harry M(axwell) who suggested phoning a library. OK, you may have asked the lady to check the dictionary for you, but I cannot confidently say that someone else didn't suggest that also...
For once, however, Nick Hewer had already informed Lord Sugar of who's idea it actually was, and this time, the smug look was almost wiped off her face.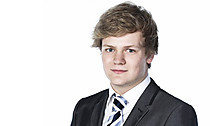 And, perhaps, even more blatantly:
On week one, when Mahamed Awale was fired, he outrageously claimed that HE had had the idea of theming the ice cream stall along a pirate theme, yet this was absolutely untrue. The (actually, rather crap) idea belonged to the messy-haired James McCullagh, the person who seems intent on showing everyone how shit they are by effectively whispering seeds of doubt in their ears.

Lets be honest about things, however, no one can quite understand what pressure they might be under when going into The Boardroom, especially at such a tender age, and it is not inconceivable that some of the more brash, bold figures may tell the odd white lie if they think it will deflect the sharp tongue of Lord Sugar on to some other, more helpless lamb.
But it doesn't stop it from iring me... And it won't stop Lord Sugar from firing them